No leaf peeping season can compare to the beauty of Oxford County, Maine.  And here in the  friendly town of lovell  is the perfect gateway trip your whole family will love.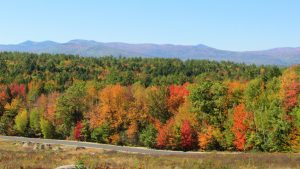 The Mountain and Lake district  of Maine provide the perfect settings for fall leaf-peeping and around Kezar Lake is where the color starts to turn first!   The clear blue skies and  fresh crisp air with the lovely scent of pine creates the ideal setting for enjoying Maine's fall foliage colors.  This area in New England  is best known for the brilliant red leaves of the century-old sugar maple trees, as well as a wide range of yellows and vivid  oranges.  You're sure to enjoy breathtaking panoramic vistas — autumn painted valleys, gentle rainbow colored hillsides,  brilliant crimson cranberry bogs, and multi-hued towering peaks.
Why not 'pair' the wonderful autumn vistas with local seasonal family fun activities; such as corn mazes, cranberry picking, hayrides, pick-your-own apples,   and fresh apple cider  made on the premises.   Pietree Orchard offers a wide variety of pick-your-own fruits, including apples (over ten varieties), strawberries, blueberries, and raspberries throughout the Spring, Summer, and Fall growing season.   Visit their farm stand kitchen for a delectable array of fresh baked goods including brick-oven pizza (topped with seasonal farm fresh ingredients), fruit pies (apple, blueberry, etc.),  and their famous, tasty apple cider donuts.   (For a complete list of fall activities check out our Activities page. )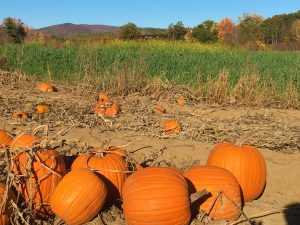 Visit from late August thru Early November (before the first frost). The weather is best (perfect) this time of year.  The days are warm and sunny, and  nights cool, crisp with little to no mosquitoes.
Grab a cup of coffee, fruit and some sweets from our coffee, tea & sweets station and take a scenic drive, hike, boat ride or walk while 'leaf-peeping' the beautiful vistas of shades of orange, red, yellow and purple amidst the mirror lakes, rolling hill, large granite bald rocks, and majestic mountains.
Peak foliage weekends are often booked well in advance, however, it never hurts to check with us for last-minute cancellations.  We highly recommend visiting during the midweek (Monday thru Thursday)  to avoid crowds.
Here are links to some self-guided Maine foliage driving tours, along with suggestions for the best location in each region of Maine, and when to visit for the best fall colors.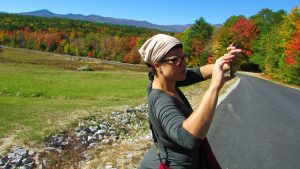 For a complete list of fall activities check out our Activities page.