Introducing the Mecca for Lovers of Craft Beer
Stay at Center Lovell Inn and take a pilgrimage to Ebenezer's Brew Pub, Lovell Maine.  Ebenezer's is widely consider to be the craft beer mecca of the  United States and quite possibly the world!  One reason is that Ebenezer's is recognized year after year as one of the top beer Restaurants and Beer destinations in the world by Beer Advocate, Ratebeer.com and Draftmag.com.
Ebenezer's Pours Over 35 Tasty Brews on Tap
Inside an old charming farmhouse, Ebenezer's  Brew Pub pours over 35 of the world's best craft beers on tap.  The feature very special beers that are not readily available in the US (and most of the world)  to serve in their Pub.
They  boast  an extensive beer cellar with one of the most unique collections in the world; featuring over 1000  bottled beer of different rare vintages,  (mainly the best Belgian beer) including  collaborations and barrel-aged selections.  To boot, Ebenezer's  pours  beers from their own craft brand called Lively Brewery, with seasonal selections like their  award-winning Black Albert. (A must try)!  Ebenezer's is one of the only bars in the World serving this caliber of world-class beer. This is why people travel from far away to visit Ebenezer's.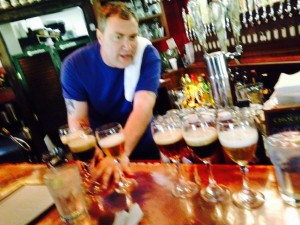 Ebenezer's  Brew Pub offer a full spectrum of flavors: from spiced to fruit; sour to sweet; light and yeasty to toasted  rich  espresso stout brews.  Their vintage, cellar aged beer is also a big part of the draw.
Fine  Beer, Food, Ambiance and Great  Service
Everything about  Ebenezer's Brew Pub is outstanding and consistent.  From beer, food, service and atmosphere.  According to beer connoisseurs Jen and Chris Lively, the husband and wife team pub owners,
"we wanted to bring the best beers in the world to one of the most beautiful places in the world."
In my opinion they  over delivered on this promise.  A good thing.
Most of their savory craft brews are impossible to find anywhere else.  According to Draft Magazine: "Ebenezer's has  "one of the most extensive beer collections on earth."  There you will have the opportunity to sample some amazing beers that are impossible to find anywhere.  A notable characteristic that makes this Brew Pub worth a trip.
With that said, it should come as no surprise to learn that beer aficionados from all over the world make a special pilgrimage to this  beer  nirvana   located in beautiful Lovell Maine.  Fortunately for our out-of-town visitors and myself, the Center Lovell Inn is just a short  5 minute drive away.
Don't miss Ebenezer's  Amazing Belgian Beer Festival
Each year, Ebenezer's host  their annual Belgian Beer Festival.   This nine day long beer feast features a multi course food and beer tasting menu. Along with  libations from multiple rare vintages of world famous brews like Bigfoot from 2002 on up, they also offer some age-worthy  Barleywines brewed by  Paul Davis from 2006-2007.   The Belgian Beer Festival  begins in mid to late August.  Plan your trip early and reserve your room at the Center Lovell Inn soon, since this event is historically booked out.
Ring in the New Year's Ebenezer's Style — great beer, food, love music and fireworks! 
If you can't make the Belgian Beer Festival, try their  more intimate multi-course New Year's Eve dinner party, perfectly matched with the best premium craft beers (or wine if you prefer) and includes Live Music, New years Toast, and Fireworks!   Ebenezer also host an annual  chef dinner in February.
For beer drinkers who want to escape the crowds and enjoy a more leisurely paced drinking   experience, visit Ebenezer's Brew Pub during the off season from September thru June.  They are open year round on the weekends, however always call for up to date hours.  For more information visit Ebenezerspub.net / 207-925-3200.